Top 10 Free Job Offers For Latin America & Spain
No matter if you are a recent graduate or a veteran in the job market, finding a job is hard… but not impossible, especially if you learn how to take advantage of the different free job boards that exist today, as well as following these practical tips to learn how to sell yourself as a professional.
I know that many times it seems that companies are looking to have employees as young as a college student about to enter the job market.but with the equivalent of a professional with 10 years of experience, 3 languages, willing to hock his soul and jump on one foot for minimum wage. I've seen it happen.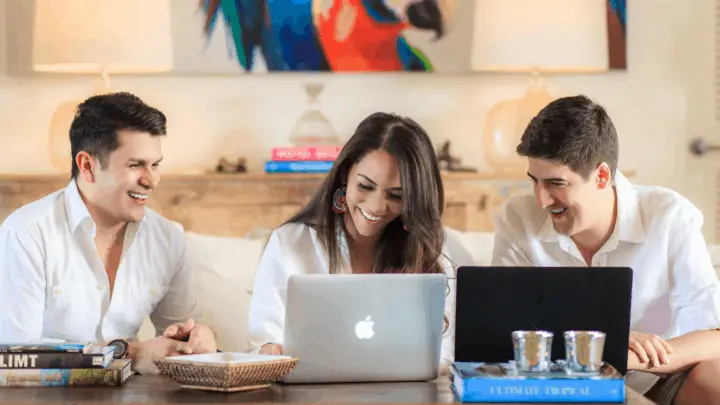 However, I have repeatedly found that, taking a step back and analyzing our approach before we start sending out applications and accepting offers, helps us take a different angle and can give us that boost of confidence we so desperately need to get a vacancy at one of the highest paying careers of the moment.
Important: Information shared on this website does not constitute professional advice and is not intended to replace, nor does it replace, the services of trained professionals in any field, including, but not limited to, financial, employment, entrepreneurial, travel, medical or legal matters. Any ideas, advice, opinions, information and/or other training materials or links accessible through this website are for informational and entertainment use only. Please note that there are no guarantees about the results you may obtain by using or implementing the strategies, products, services and ideas discussed on this website.
Top 10 Free Job Offers in Latin America and Spain
Before I get to the tips for finding jobs using these platforms, I will take the opportunity to list them for you to keep this list with the best job boards for Spanish speakers.
Please note that when using these free job boards, you should pay special attention to the wording of your profile, as these platforms will introduce you to an audience of recruitment professionals from different industries, which will serve as your letter of introduction to future job opportunities.
Top 10 most popular free job boards:
15 Tips for Finding a Job in a Short Time
There's no denying it: looking for a job is in itself, a full-time remote job and, unfortunately, no matter how much experience you gain along the way, it generally doesn't get easier as you get older.
That's why
to avoid feeling rejected by the job market, you should consider the following tips.
following tips.
1. Make your resume take care of 80%.
Yes, your resume is that powerful and is key to starting a solid job search on any of the free job boards we mentioned above.
The idea is to
show that company why you want THEIR job and why they NEED YOU.
NEED YOU.
To achieve this
you need to demonstrate:
So get your act together and make sure those two points are in your cover letter and your application.
Make sure you
"tailor" your resume for each company you apply to. This
will multiply your chances of being selected.
2. Learn to sell yourself
When trying to use job boards, you will need to learn how to sell yourself as a professional to any potential employer, so you will need to think about everything you might have going for you, to stand out from the crowd.
Many times this
important step is often overlooked, and those interested in finding a job,
drop impersonal resumes and unremarkable cover letters almost everywhere.
and unremarkable cover letters just about anywhere.
It is important to
that for any good recruiter or human resources manager, the way you handle your job
the way you handle your application process is a reflection of the type of employee you will be.
type of employee you will be.
This means
that if you don't do everything you can to impress them at the early stage of the
game (application and interview), your chances could drop drastically.
3. Look for the lessons after every fall
Try not to
let failed applications affect too much the confidence you have in your ability to find a job.
you have in your ability to find a job.
As Charles Darwin famously mentions, "it is not the most intelligent that survives, but the one that responds best to change." And it is almost always those who are willing to self-analyze, reinvent themselves and take each rejection letter as an opportunity to improve for the next attempt that will succeed.
4. Define what you are looking for
Before trying to find a job, spend some time thinking about your reasons:
Would you like to gain work experience? If you already have experience, are you interested in doing the same job for a different employer? Would you like to change careers? Do you want more flexibility? Do you need a better salary or a better work environment?
Each of these
circumstances present a different way in which you should begin to filter opportunities to find the right
filter opportunities to find the job you really want.
5. Create a list of companies where you would like to work.
Do you have a list of companies you would like to work for?
If you don't already
have one, I recommend you start doing some research on the main companies in each of your
companies in each of the sectors you are interested in, as well as those not so well known that are making positive
that are making the news in a positive way.
You'll find all the information you need on the website, and once you have the list, you can start reviewing their job board profiles, submit your resume and sign up for email notifications.
6. Learn to identify your priorities
The next step
to finding your ideal job, is to define your wish list and decide which of the characteristics of your
of the characteristics of your perfect job are negotiable, and which are not.
Each of us
of us will have a different list. For example:
Flexibility
Distance from your place of residence
The salary you are not willing to go below
The fringe benefits that are imperative to you (year-end bonus, health insurance, paid vacation, etc.)
Deciding which factors are must-haves and which are negotiable will give you the opportunity to find a job that not only pays you a salary, but makes you happy.
7. Lean on job boards and online communities.
In addition to uploading your CV to job boards, also create your profile on platforms with professional networks such as. LinkedIn and join Facebook groups about industries that interest you. The idea is that you start building your reputation in a networking network and keep up with the latest job openings.
Keep in mind that although many do, it doesn't look good to add or request friendship from someone you don't know in real life and/or have no obvious connection with.
8. Ask your family and friends for help
Personal referrals are one of the most popular methods of defining a professional hire; as it is logical, companies prefer to hire someone who inspires trust and has a good professional reputation.
Take advantage of your job search to ask friends and family members who work at companies you'd like to explore about possible job openings. This action can help you discover job possibilities you didn't know existed, or do so before they are posted.
9. Don't be afraid of the unknown
The job market is evolving so quickly and constantly that there are probably tons of jobs out there that you may never have heard of. Many of them probably didn't even exist when you were about to decide on your career path.
For example,
do you know what a Growth Hacker is? How about a News Verifier? At
In short, it pays to do a little research on new positions, careers and professions; as you may end up
and professions; as you might end up finding your ideal job.
Choosing to pursue a non-traditional career path usually also means less competition, and in many, many instances, even greater demand.
10. Determine if you meet the requirements
Whenever you are
in the job search process, be sure to check the requirements section of each job you plan to apply for.
requirements section of each job you plan to apply for.
Usually, there will be an "experience or requirements" section that describes everything an employer is looking for in their ideal candidate. Try not to waste your time and before you apply, see if you have the necessary qualifications to be considered.
11. Try to transmit charisma and confidence
As I mentioned earlier, the way you carry yourself during the job application process will give your potential employer an idea of the type of worker you are.
12. Try an internship
This is a particularly
particularly good option if you are a recent graduate or have no experience doing the job you would like to apply for.
Moreover, I'm one of those who thinks that if you can afford to go a couple of months without a salary, getting some work experience before deciding if a certain career is the right path for you is an excellent idea.
In many occasions you could end up getting hired and if not, take it as a free master's degree, where you will learn skills, gain experience and achieve contacts that will probably be very useful in the future.
13. Try a recruitment agency
Finding a job through a recruitment agency can be a good option. This is especially true if you feel overwhelmed with the few or many options on the market.
14. Attend job fairs
Job fairs are a
are a fantastic opportunity to make yourself known to major employers and recruiters, giving you the chance to network
employers and recruiters, giving you the opportunity to network and be informed about the
informed about the application process and the possibilities
Pro tip: write down the names, titles and email addresses of the people you talk to and send them a follow-up email. A short message telling them how nice it was to meet them is enough to probably put you on their radar!
15. Become your own boss
If you are one of those
who dream of firing your boss and working for yourself, you're not alone.
It's worth noting that
while it's very appealing to be your own boss, letting go of the comfort of the known
and a pre-established salary can be difficult.
That said, and while
becoming your own boss might seem like a scary move, if you have the passion and motivation
the passion and motivation necessary to drive your ideas forward, this could be the smartest decision you've ever made in your life.
smartest decision you've ever made in your life.
I invite you to read: today I quit my job to live as a digital nomad..
Remember that if you
you don't work for your dreams, someone else will most likely hire you to work for theirs.
you to work for theirs.